The park offers outdoor adventure to hikers, off-road bicyclists, horseback riders and nature lovers. To ensure solitude and quiet for a true wilderness experience, the southern two-thirds of the park are designated for hiking only.
The northern third of the park has horse trails, off-road cycling and hiking. Equestrians must carry proof of a negative Coggins test.
The hiking trailhead is located four miles northwest of Gainesville on State Road 232 at 11101 Millhopper Road.
The horseback and bicycle trailheads are located just south of Alachua off U.S. 441.
Hiking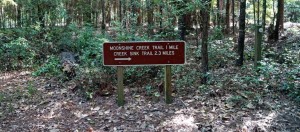 Accessible from Millhopper Road near Gainesville, the hiking trails cover 20 miles over the southern 2/3 of the park.
Biking
Nearly 40 miles of flowing single-track mountain bike trails wind through the various ecosystems of San Felasco Hammock Preserve.
Equestrian
San Felasco Hammock Preserve State Park offers the equestrian the opportunity to ride through a variety of outstanding natural areas.